Micro Powder Mill Has Immeasurable Market Value
Author: admin Time: 08-10-2014
Micro powder mill is developed by grinding equipment experts based on years of production milling machines, which has draw the fineness classification technology of Germany and Japan. By adopting advanced using fluid mechanics principle, it has comparable performance with airflow mill with totally new design, which has successfully solved the high cost problem of jet mill. Micro powder mill is a high efficiency milling machine, which is mainly applicable to the crushing of conventional materials, such as kaolin, limestone, calcite, talc, marble, barite, gypsum, iron oxide red, iron oxide green, aluminum hydroxide, pigment, bentonite, kaolin, carbon black, coal, activated carbon, etc.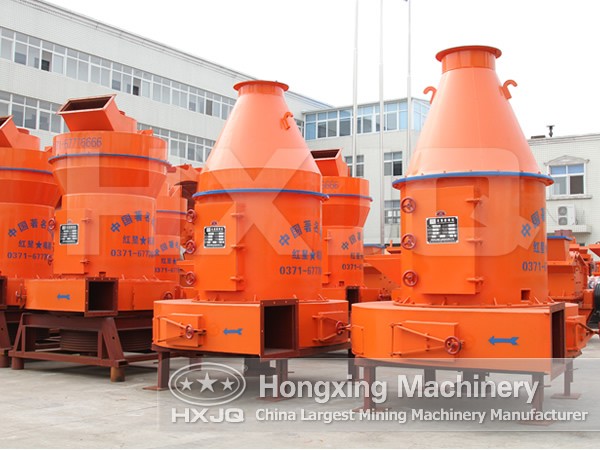 Hongxing Machinery is specialized in the production of large mining equipment; micro powder mill is one of the grinding machine products, which can grind industrial waste to achieve the waste re-use purpose. Just like other milling machines, micro powder mill can also realize the deep processing of materials, and the highest grinding fineness can reach 3500 meshes. The full set of micro powder equipment including hammer crusher, bucket elevator, storage bin, vibration feeder, micro powder mill host, frequency conversion classifier, duplex cyclone powder collector, high pressure blower ,pulse dust removal system, air compressor and electric control system. Micro powder also can realize the mechanical integration; it can operate without artificial guard. The dust removal device can meet the industrial dust emissions standards without any pollution to the environment.
Hongxing Machinery has accumulated more than 10 years of experience in the development and production of grinding machines. The main grinding products our company are high-pressure micro powder mill, Raymond mill, ultrafine grinding mill, tricyclic medium-speed micro powder mill, high strength pulverizer, vertical milling machine and other large mining machinery. We have technical department, the most reasonable prices and complete pre-sale and after-sale customer services. Welcome customers to consult us!