Flotation Machine is the Integration of Modern Science
Author: admin Time: 09-09-2014
Flotation machine is the integration of modern science, which mainly includes chemical thermodynamic, kinetic, electricity, surface colloid chemistry, and rock mechanics. Currently, the industrial minerals become depleted, fine and complex. It has promising development in metallurgy, chemical industry and environmental engineering, which has higher requirements for flotation process. The most intuitive sign of the good floatability is its different degrees wetted by water, the materials which are easy to be wetted by water are the hydrophilic minerals, such as quartz, mica, etc. the materials which are not easy to be wetted by water are hydrophobic minerals, such as graphite, molybdenum and so on.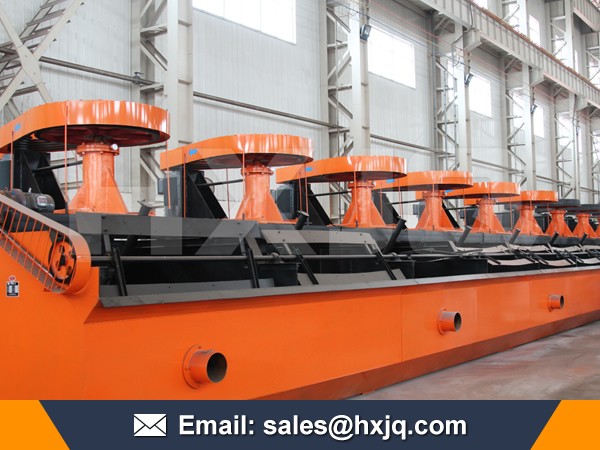 Flotation machine is designed and manufactured based on the solid foundation of advanced technology in the market. Flotation machine has high separation efficiency, which greatly expands the scope of mineral resources and increases the recycling rates. When it is working, the motor drives the impeller to rotate, so as to form negative pressure, and it will inhale enough air to mix with slurry, while stirring the slurry bubble to make minerals adhered to the foam. The process of mineral processing by flotation method not only has small investment, high recovery efficiency and small pollution to the environment. The gravity method has incomparable advantages in the beneficiation process. It is equipped with advanced control system, which can realize automation control; the groove has the suction of air and slurry as well as the flotation loop, without using foam pump, the horizontal configuration is easy for process changes. Flotation machine is widely used as the copper separation equipment, gold separation equipment, limonite ore dressing equipment, lead-zinc ore washing equipment, etc.
Hongxing Machinery has various types of flotation machine for sale, in addition to froth flotation machine, we also have copper ore flotation machine. The flotation machine produced by our company has advanced structure, reliable performance and favorable price. If you want to know more details about flotation machine, please contact us!