The Structure and Working Characteristics of Screening Machinery
Author: admin Time: 04-21-2015
Characteristics of the Vibrating Screen:
1. Adopting eccentric block as the exciting force, with strong vibration force.
2. Adopting high strength bolts, simple structure and convenient maintenance;
3. Adopting tyre coupling, flexible connection and smooth operation;
4. Using small amplitude, high frequency and large dip angle structure, high screening efficiency, large processing capacity, long service life, low power consumption and low noise.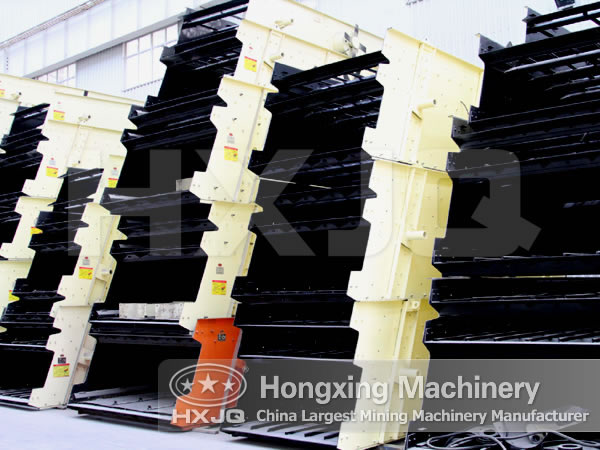 According to the structure and working principle, the screening machinery can be roughly divided into four categories:
1. Fixed screen. The working part of the fixed screen is fixed, by means of the material slipping along the working surface to make it screened. Fixed screen is is widely applied to many ore dressing plants usually for advanced screening before coarse crushing or secondary crushing. It is of simple structure and easy to manufacture. The ore can be unloaded on the screen directly, without power consumption. It's main drawbacks are low productivity and low screening efficiency, generally 50-60%.
2. Roller screen. Its working surface is composed of a horizontal alignment of rolling axles, on the top of the axles equipped with plates, and the fine material will go through the gaps between rollers or plates. Then the larger material will be driven to the end by rollers and be discharged. This kind of screen is rarely used in ore dressing plants.
3. Trommel screen. Its working part is cylinder-shaped, and the whole sieve rotates around the cylinder. The axis generally forms a small angle with the ground. When materials fed from one end, the fine materials will pass through the sieve mesh, and the larger ones will be discharged from another end. Advantages: Low speed, stable running, small working area and good dynamic balance. Disadvantages: Sieve mesh liable to jams, low screening efficiency, and low productivity. It's also seldom to be used as screening equipment.
4. Plane moving screen.The body swings or vibrates in a plane. According to the movement locus, it can be divided into linear motion, circular motion, elliptical motion and complicated motion. Shaker screen and vibrating screen fall into this category.
Fote Machinery is specialized in manufacturing screening machine, feed machine, conveyor, crushing machine, grinding machine, drying machine, ore processing machinery, etc. Warmly welcome new and regular customers to consult and choose our products!