Sand Maker Applications and Attentions
Author: admin Time: 05-12-2015
Sand Maker widely applies to crushing soft or medium-hardness or extreme stiff materials in large scaled smelting, building materials, highway, railway, water conservancy and chemical industry, and many other sectors. Sand Maker is composed of seven parts: the feed hopper, distributor, vortex crushing cavity, impeller, spindle mechanism, base, transmission device and motor.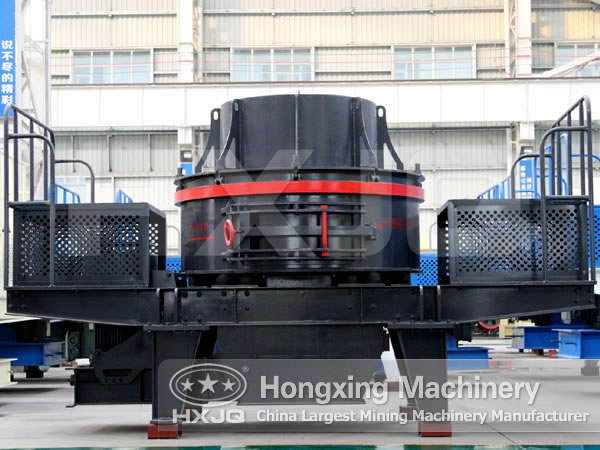 Applications:
1. Artificial sand making of pebble, limestone, granite, basalt, diabase, andesite, ore tailings, stone chips, etc.
2. Producing construction aggregate, highway road surface aggregate, cushion materials, asphalt concrete and cement concrete aggregate.
3. Sand production and stone reshaping in engineering fields, such as water conservancy and hydropower, high-grade highways, highway, high-speed railway, passenger special line, bridge, airport runway, municipal engineering and high-rise building.
4. Early fine grinding process in the mining field, and material crushing in building materials, metallurgy, chemical, mining, refractory materials, cement, abrasive and other industries.
Attentions:
1. Before booting up, check whether the observe door of the vortex chamber is fastened, for fear that the material rush out from the observe door and cause dangers;
2. Check the rotation direction of the impellers from the inlet direction. The impellers should rotate counterclockwise, otherwise, the motor wiring should be adjusted;
3. The right boot sequence of the crusher and conveying equipment is: discharging →crusher→feeding;
4. The crusher must be started up no-load, and then to feed until it operates normally. The closing down order is in contrast to the boot sequence.
⒌ When the discharging equipment stop running, the feeding should be stopped timely, or it will cause impeller damages and motor burnout;
6. The feeding is required to be continuous and uniform;
7. During the crusher running process, there shouldn't appear violent vibrations and abnormal noise, otherwise, stop to check immediately;