Drying Machine is Indispensable in Cement Production Operations
Author: admin Time: 09-24-2014
The drying machine is the important equipment for drying raw materials, cement clinker and the finished product during the cement production process. In the new drying process of cement production model, it has higher requirements for the drying degree of raw materials. All kinds of raw materials need to be dried during the production process, and even the traditional wet cement production process of pulverized coal and the mixed material also need drying process, so as to ensure the normal grinding operations. The water content of material in the cement production process will directly affect the efficiency and quality of the production process. When the water content of the material is high, the fine powder will be sticky at the top plate and the lining grinding body, which results in the clogging of the outlet and uneven particle size, which ultimately affects the quality of cement.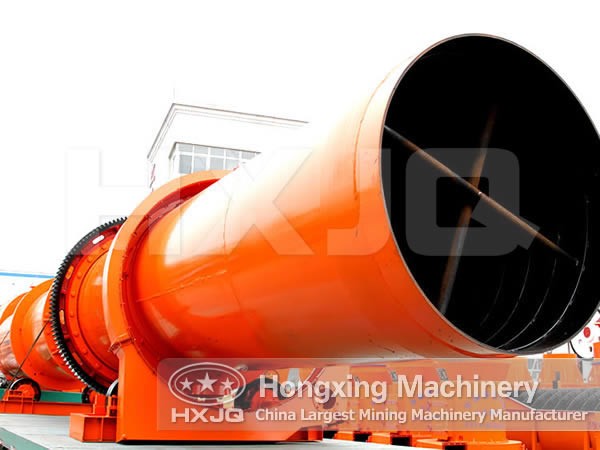 The most commonly used drying equipment in cement production line includes: rotary dryer, three-cylinder dryer, double cylinder dryer and slime drying machine. Rotary dryer is widely used in the cement production process. After the breakup process of the material, the materials are added into a rotary kiln for calcining mixture and the formation of clinker. In the industrial mineral processing, building, metallurgical, chemical industry and other sectors, drying machine also plays important role. Hongxing rotary dryer, slime dryer, three-cylinder dryer have very high market share, and with years of professional production experience and advanced technology, Hongxing dryer has been widely acclaimed by customers at home and abroad.
For the large industrial drying equipment, it mostly uses the hot air vacuum drying equipment, but in other fields such as far infrared and microwave drying, it is relatively different from the original drying equipment. The traditional dryer only pays attention to the simple function of modern large-scale industrial drying equipment in the actual purchase as well as product after sale service and appearance quality. So for the domestic drying machine manufacturers, they are faced with both large-scale production equipment needs and competition from foreign equipment manufacturers. The foreign manufacturers are more stable in the production process and the after sale service. Therefore, the domestic business will need to improve the quality of products and services to occupy an invincible position in the fierce competition of mining machinery industry.