Five Advantages of Jaw Crusher in Limestone Crushing
Author: admin Time: 03-13-2014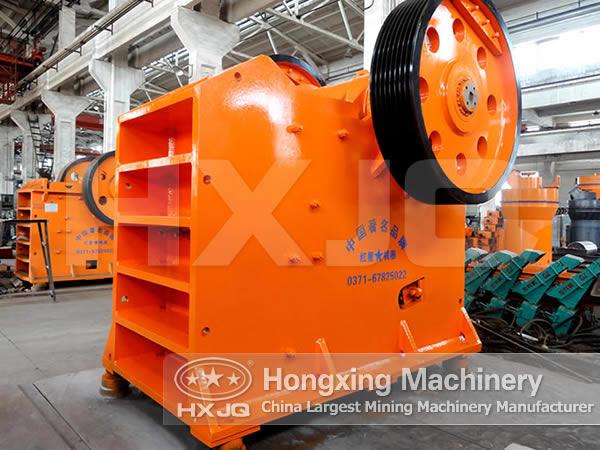 Jaw crusher has such advantages as small size, simple structure, big crushing ratio and even product granularity, so that it is very suitable for crushing large materials. Much ad high reserve of limestone, plenty of engineering construction in recent years leads to shortage of limestone. The research and development of Jaw crushing machine effectively solves the problem that large limestone cannot be efficiently crushed, thus greatly increasing the output of limestone.
The five advantages of jaw crusher in limestone crushing are introduced in the following:
1. Hongxing PE jaw crusher effectively solves the problems of high running ratio and short maintenance time caused by low output of limestone crushing.
2. Stone jaw crusher can complete the crushing of large limestone and the biggest crushing particle size is 1000*1200mm.
3. The mixing uniformity of two materials is good and the adulteration of desulfuration limestone is greatly improved, which can reach as high as 60%, thus greatly reducing the cost of raw materials.
4. The power consumption is reduced, so that electric charge can be reduced by 100000 RMB every year.
5. The granularity of waste materials is small, thus effectively solves the problem of big-sized limestone blocking the belt conveyor and even influencing the output of grinding mills.