Jaw Crusher Becomes Outstanding in Mining Machinery
Author: admin Time: 04-01-2014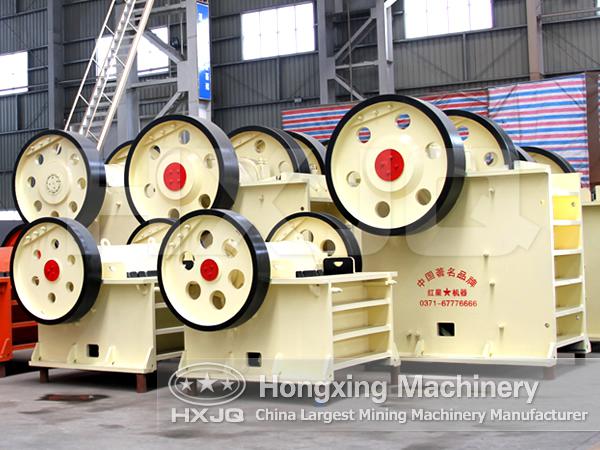 Since the outbreak of the financial crisis, with the implementation of 4 trillion bailout plan, jaw crusher has taken the ride of developing infrastructure in China, and there is a great degree of revitalization in this industry. But with the shift of state policy in recent years, investment has gradually flowed to hi-tech jaw crusher. Mining machinery industry has become urgent again.
What was worse, due to the excellent situation a few years ago, many small companies sprung up in the market. These companies get goods from other manufacturers and sell seconds at best quality prices, which made the market more chaotic. Hongxing Machinery is totally different, who has large workshops and always keeps quality in mind, who always adheres to the aim of holding sales and services together, and who struggles actively to build up itself. Our effort is worthy, with many years' deep technical and brand strengths, we are moving steadily to win the customers' recognition and praise.
We always adhere to the principle of being alive by quality. During last year, the market price of jaw crusher remains very high, which caused investors to shrink back at the sight. But after the steady falling down of domestic steel price in a new year, the cost of crushing equipment became lower. Thus, the price of jaw crusher declined and it regained the support of customers.
Jaw crusher mainly focuses on the crushing of large particles stones, granites, lime stones and construction waste. It is used in areas such as mining and processing, smelting and mining processing, building materials, high-speed railway, water conservancy and chemical industry. We can imagine the unlimited potential and bright future of jaw crusher based on its wide application.
Hongxing Machinery tightly grasps the opportunity, who sticks to the principle of independent innovation and continuously enhances the core competitiveness of itself. Moreover, it creates high-quality and top brand of crushing equipment and builds a solid foundation for the new development of crusher industry.